A bumper cover is a safety addition to the vehicle present in the car's external region. They are commonly made of plastic, fiberglass, or other materials. It adds an extra layer of protection to the vehicle during events such as collisions, scrapes, and debris present on the road.
Bumper covers are aesthetic additions to the vehicle. Many car enthusiasts invest in customized car bumper guards to enhance the overall look and feel of the car. Some of them consist of holes and extra lights to make things more visible at night. Bumper covers are an excellent way to transform your vehicle into your dream car.
Why Should You Invest In A Bumper Cover?
Many people don't realize the benefits bumper cover bring to the vehicle. We have compiled a list of perks offered by the bumper cover for you:
Saves You From Accident Pain
The first and foremost advantage of a bumper guard is it adds an extra layer of protection to your vehicle. These situations are generally tackled by the airbags and seatbelt present in the system bumper cover protects your body from body damage when you drive at high speed.
Protection While Parking
There is one thing that irritates the car owners a lot: someone scratching the paints of the vehicle. It could be because of the shopping carts placed too close to the vehicle, which becomes a headache later on. All these mishaps are handled by bumper covers and prevent paint from external damage.
Makes the Vehicle Aesthetically Appealing
Those who opine that bumper guards are bad then they are probably wrong. Even a reasonable price enhances the look and feel of the car. You just need to give an extra touch to your vehicle, and it will start looking brand new. Installing bumper guards in the vertical bar category would make it visually appealing and grab the attention of several people around you. Compare the bumper guard replacement cost levied by stores near you, and the car would look as it was purchased from the store just now.
Signs of a Problematic Bumper Cover
Over time your bumper cover undergoes wear and tear or experience external damages which need to be checked. Neglecting or ignoring would lead to bigger issues and costly repairs. We have compiled a list of common bumper cover issues:
Bumper Cracks
We devote our entire attention to the bumper cover dents, but the cracks need our attention. Fiberglass and plastic are the commonly used bumper materials. Cracks taking place on any of those materials are difficult to repair. As your car moves towards bumpy roads, water starts getting inside it, ultimately causing rust damage. Bumper replacement becomes impossible in case cracks or holes appear on them.
Broken or Damaged Bumper Hooks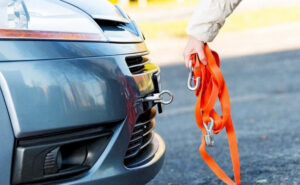 It is the hooks that keep the bumpers intact and needs to be replaced over time. Due to collision, these hooks can break, bend or become weak. In case of damages, the hooks won't be able to keep the cover as it is, and in such cases, bumper cover replacement would be the best course of action.
Several Dents or Deep Scratches
Multiple dents or deep scratches are another reason that demands a bumper cover replacement. Eliminating the dents or scratches from the bumper is a complex and time-consuming job. At times you need to pull them out or place them in. After filling, they are supposed to be sanded down. Afterward, it needs touch-up paint to match it with the bumper. Again, these things are time-consuming and intensive labor. If the repair budget is getting out of hand, replacing the entire bumper guard is the best course of action.
How Much Does Bumper Cover Replacement Cost?
The bumper cover costs are calibrated based on two parameters:
Make, year, and model of the car.
The Original Equipment Manufacturing Number(OEM) number.
The cost of the new bumper falls between $100 to $1000, and the painting costs are charged separately between $200-$600.The cost of rear or front bumper guards generally of trucks, SUVs, and other heavy-duty vehicles is quite high. Separate payment would burn a hole in your pocket, and purchasing a cover from the reputable store 'The Auto Parts Shop' would be the best idea to pay the mechanic's labor charges or watch DIY videos to fix the issue.
The Ins and Outs of Bumper Replacement Process
The technicians offer a free estimate and check your vehicle thoroughly to determine the root cause.
Once the car is taken for replacement, the cover is separated from other parts.
Scratches and dents are taken out using specialized tools and painted according to your vehicle's color.
The new bumper is attached and connected to other components.
Once the vehicle is tested, you can take your car home.
The Bottom Line
Bumper Cover is responsible for keeping you safe while driving. Hence, these must be replaced not only for your safety but also for the safety of the car. Purchase your car bumper cover and enhance the appeal.