For almost three decades, Americans and jeep enthusiasts have been confining their trust in Jeep Wrangler. Jeep Wrangler has become a popular brand name among these enthusiasts because it is reliable, inexpensive, and performs exceptionally well as an SUV. Despite so many exquisite features, certain parts such as the soft-top start giving issues over time. Compare the price of the best soft top for Jeep Wrangler offered by different websites and select the one that fits within your budget.
Besides this, there are some exclusive features that you won't find in any other car. Let's have their detailed analysis and find a quick fix of soft-top issues in the subsequent paragraphs:
It's Quite Safe
No matter how tough and rough the environment gets, the jeep overcomes difficulties with ease. The car comes with impressive safety features that is why it has become the preferred choice of many. The underbody is generally protected using a 2.5mm skid plate. High-power fog lights and robust mounting towing hooks are integral aspects of the car. Anti-lock features installed in the car's brakes keep the riders safe on the road even in case of emergencies.
Amends Take Place on a Regular Basis
Jeep Wrangler models have been undergoing numerous transformations every now and then. The modifications are performed keeping the demands of the users and the govt—regulations on vehicle efficiency in mind. Certain Wrangler models have adapted to the changes well and gives car sales a boost.
Offers Exhilarating Driving Experience
All the parts of the classic jeep have been integrated into a Wrangler eep's iconic seven-slot grille, and removable doors and soft top give every rider a memorable riding experience. In addition, it has a voice-activated center console that keeps everyone entertained throughout the journey.
Excellent Resale Value
Did you know that 69 percent resale value remains intact in the case of Wrangler after three years? Owners are making an excellent decision by investing in a car that can be carried to long distances and won't dig a hole in your pocket. Not many people know, but the car holds the second-highest resale value as its parts are durable and work exceptionally well on low gas prices.
Common Issues with Jeep Wrangler Soft Tops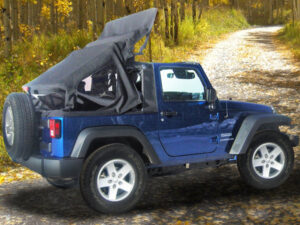 Jeep Wrangler soft-tops last between 3 to 5 years and need replacement after time passes. At times the soft-top becomes ratted, and it's time to determine the jeep wrangler soft top replacement cost and associate with a trusted store like 'The Auto Parts Shop' that delivers genuine and reasonable soft-tops at your doorstep. This replacement offers numerous benefits to the car enthusiasts some of them have been listed as follows:
Stronger Fabric
A regular soft-top is made of basic material that deteriorates over time. This isn't the case with the ones purchased from 'The Auto Parts Shop.'These are so strong that they handle your daily handling without any hassle. Plus, they are less susceptible to tearing and puncture and don't fade away or stretch over time. These qualities make them the best soft top for Jeep Wrangler.
Unaffected by Weather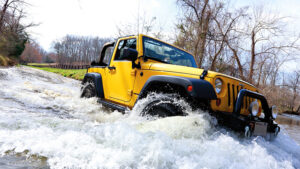 One of the most regular user complaints is that the small openings in the fabric lead to the entry of water and dust within the soft-top. The soft-top manufactured by the automotive manufacturers is made of a special kind of thread that will never come out.
Effortless Replacement
A fancy jeep top comes with add-on features and has a complicated installation process. Determine the soft top jeep wrangler price, and your car will be ready in a couple of minutes. These put you into less hassle, and your vehicle will be ready in no time.
Invest in high-quality and durable Soft-tops instead of settling for those cheap and poorly working ones. Before making the purchase decision, don't forget to keep the cost of the soft top for the Jeep Wrangler in mind so that you pay the actual worth of the soft-tops.
How Much Exactly Does The Jeep Wrangler Soft Top Replacement Cost?
The jeep wrangler soft top replacement cost depends on the type of soft-top installed on the car. A brief soft top costs between 60 USD-90 USD, while an island category costs between 82-132 USD. These are generally purchased based on the finish, which is between 69-900 USD. Those with a charcoal or grey finish generally cost between 300-700 USD. You can save money from expensive repairs by purchasing your part from a reputed store near you and watching some DIY videos to perform the replacement yourself.
The Bottom Line
Driving Jeep Wrangler with a problematic soft-top would lead to bigger issues in the years to come. Leaving the issue as it is would get you into expensive repairs later on, so determine the cost and choose the best soft top for Jeep Wrangler.