Like other safety features i.e. PCM, ABS, and brakes, horns are also an essential part of the safety of vehicles. A car horn is a safety measure or a mode of communication for the drivers as well as for the pedestrians walking in front of your vehicle. It is illegal in some countries to drive without the horns.
If you notice that your car's horn is not loud enough then it will put your as well as other's safety at risk. If you are looking for specific horns, then there are different types of horns are available on the markets with different sounds.
Things to consider while purchasing a horn:
Suitability: This implies that what type of horn suits your vehicle. The horn should be 100% compatible with your vehicle. You need to check the technical specifications of your vehicle before purchasing the horn for your vehicle.
Decibels: Again you need to check the type of vehicle for which you are going to purchase horns. If you have a car, trucks, or boats, then you need horns with high decibels, while if you have a bike then you need horns with low decibel sounds.
Ease of installation: Before purchasing a horn, you need to know all about the installation process of horns. You need to check the specifications as well as check if you need a professional to install that horn in your vehicle.
Cost: There are different horns are available in the market with different price ranges. Choose the best horn at an appropriate price that suits your vehicle.
Here is the list of best horns for cars:
HELLA Supertones
These horns are loud and offer a good value of money and have a fantastic reputation in the market, and are considered the most powerful and loud horns in the market. These car horns are designed in a black coated metal body with a red protective grille that gives a stylish look and yells a high-quality performance. These horns are simple to install, comes with a mounting bracket with instructions for fast installation.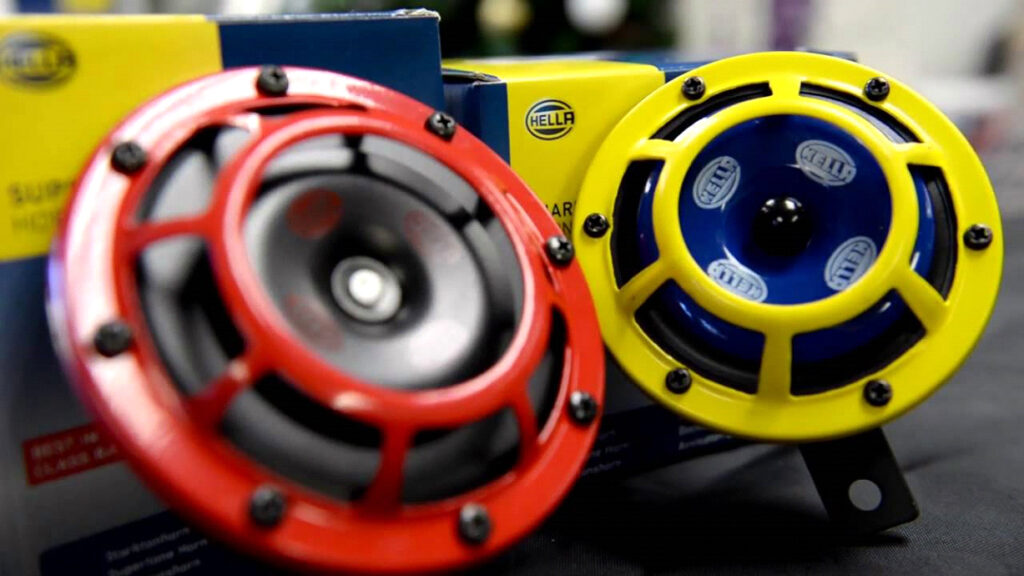 Pros
Loud car horns
Stylish design
Two-tone
Include instructions
Cons
PIAA Superior Bass horn
These horns are super easy to install with no complicated wiring and fuses are needed. You need to remove the old car horns and connect the power and ground to your new PIAA car horns. These car horns produce the deep and loud sound of 112 decibels that is sufficient to grab the attention of the drivers as well as pedestrians.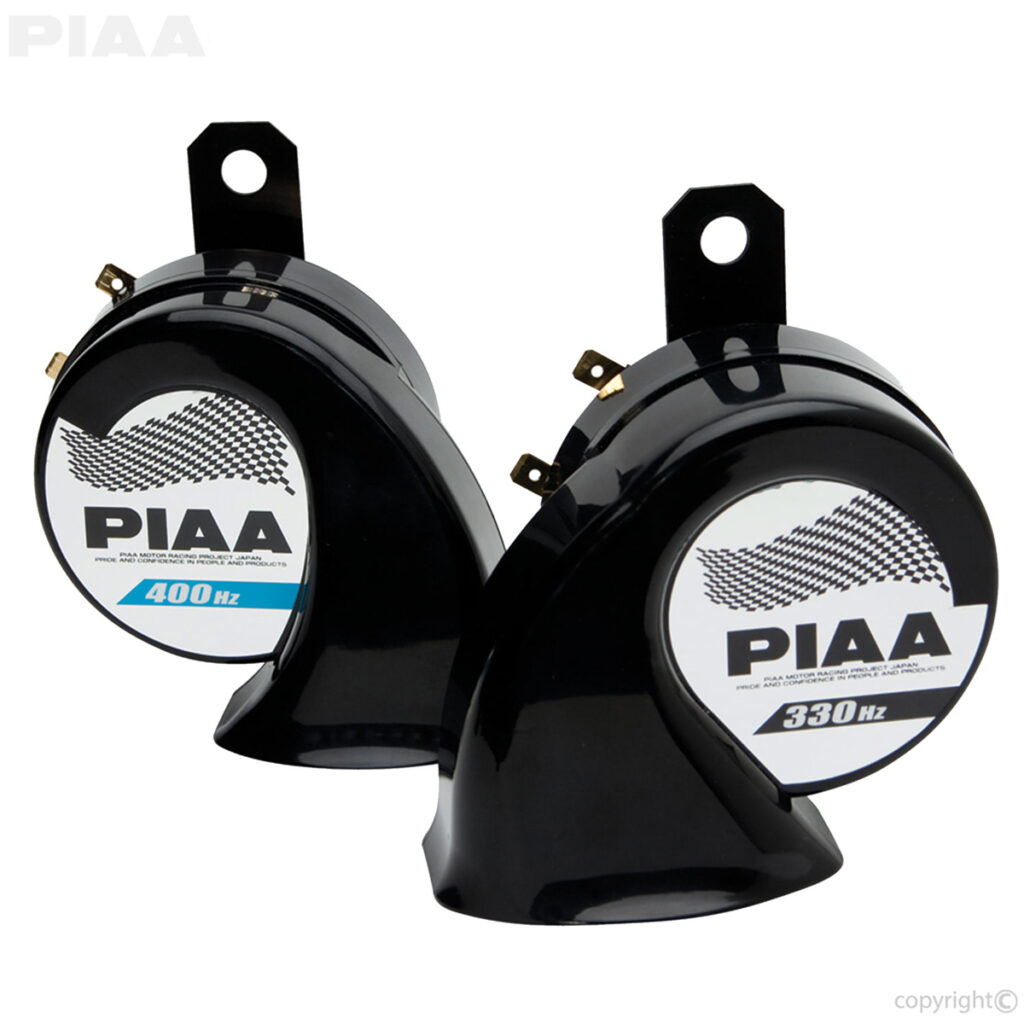 Pros
Easy installation
112 decibel
Limited lifetime warranty of horns
Do not need relays
Cons
Marco Super Loud Air Car Horn
This is the top quality air car horn, but it is a little expensive. This is the super loud car horn that emits up to 138 decibels of sound that is enough to grab the attention of vehicles. It has immediate activation, which means that there is no time delay between the sound and you press the horn button. This is the safest and loudest horn having features of attractive design with black plated trumpets and heavy-duty compressors. There is no maintenance requires in this horn installation, and you can fit this horn in any car, truck, and SUV with a 12 V electric system.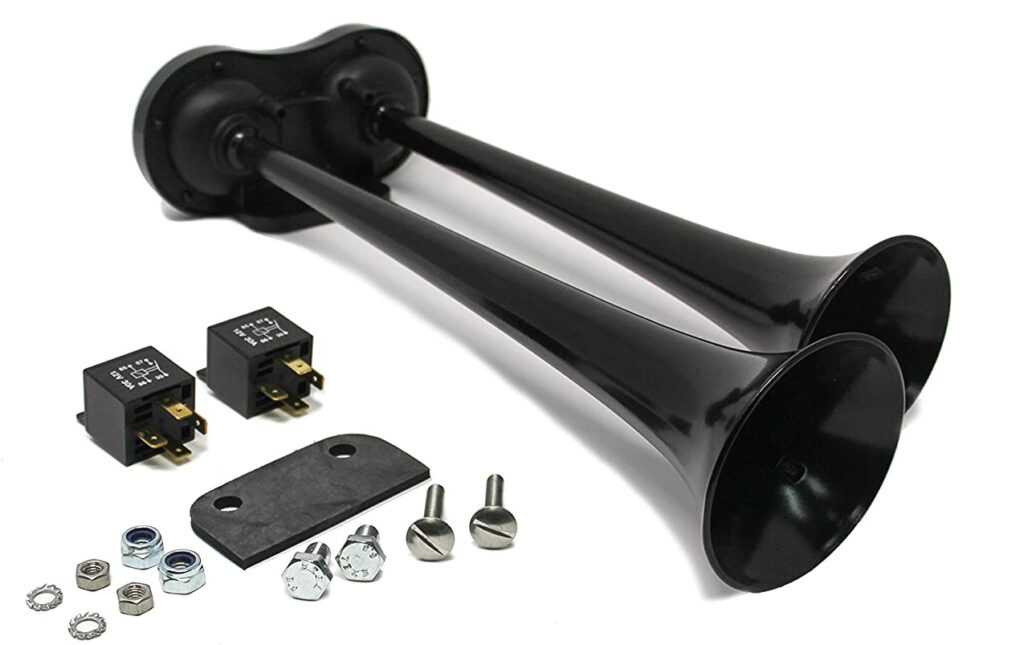 Pros
148 decibels
Heavy-duty compressors
Stylish black metal trumpet
Included hardware kit
Cons
Wolo Bad Boy Air Horn
This car horn is two times louder than the factory car horn. This horn uses the latest technology with a patented one-piece design that requires no hoses for installation. You can easily install these horns in your car with only one bolt. This horn produces a dual-tone air horn sound that produces a super loud sound. You can fit this horn to any vehicle that has 12 electric systems. This horn can build with a heavy-duty system and maintenance-free compressor.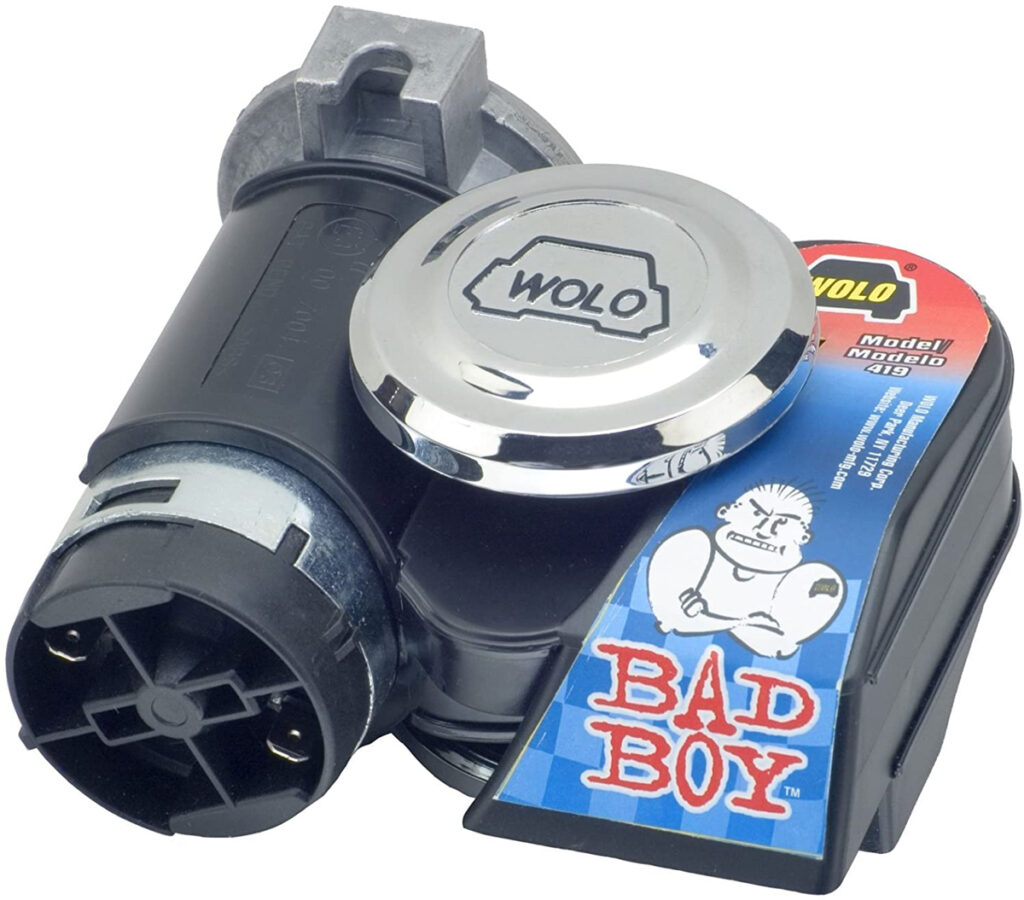 Pros
2 times louder than factory horns
Easy to install
Easy to mount
Maintenance-free compressor
Cons
Super loud Marco Tornado Compact Air horn
This macro Tornado Compact Air horn is beast in the lawsuit of sound. This horn produces about 151 decibels clear, loud, and two harmonized tones. This horn can easily grab the attention of any vehicles or pedestrians walking in the road. These horns meet all the necessary qualities that make it a standard horn. This horn has a two-year warranty.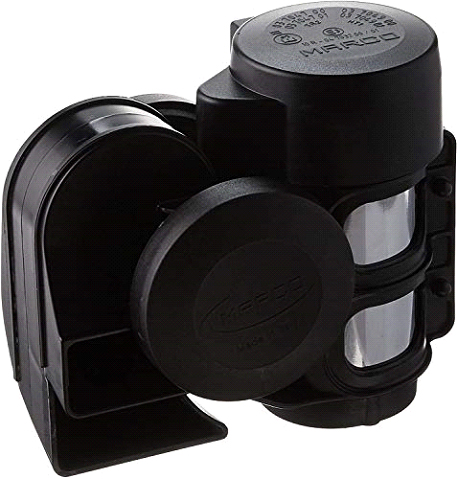 Pros
151 decibel sound
Dual harmonized tone
Loud and clear
Cons
The car horns are a vital part of driving and it is crime in some countries to drive without a horn in your vehicle. It is a mode of communication to let your friend know that you are waiting outside his/her home. If, you notice some problem with your horn, get your car to the garage and repair your horns as soon as possible.