During a video conferencing GM shared their electrified plans for the next 5 years. He also shared a glimpse of the upcoming Hummer electric SUV EV that is ready to run on roads in 2023.
Recently, GMC has created a buzz by introducing the newly electrified version of a pickup truck with a Hummer nameplate. This electro limit truck generates the power and technologies to conquer the road with super confidence.
The Hummer EV will be offered as a pickup truck as an ultra-loaded edition 1 model or an SUV with 2 or 3, motor setup, retailing range of $112,595 and starting range of pick up $75,000.
The GMC did not share any further information regarding the new electric SUV. But a sign has given that the newly launched car will also have a newly equipped edition 1 with the base model of three motor EV3X and two motor EV2x. Both motors come equipped with air suspension and four-wheel steering. Several features are inbuilt in this Electric SUV EV including, ultra-vision with an underbody camera.
The features that were shown of electric Hummer were Super Cruise semi-autonomous driving system, removable roof panels, and 35-inch tires.
The new launching Electric Hummer specifies with a Bose audio system with 14 speakers that creates an acoustical experience while driving. This pickup is leveraged with the super cool interior where a touch screen is available on which you can set all your commands.
In the revolutionary design of the Hummer SUV EV, elements are infused with signature cues. Six vertical grill bars, low turret roof profile and an upright windshield, massive tires, skid plates, and a strong finishing with unique signature tail lamps.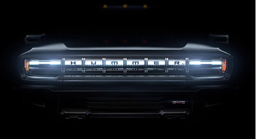 You can also remember this Hummer SUV EV as a leader in charging efficiency with the optimum battery level. This SUV has the efficiency of charging 100 MI in 10 minutes. GM also gave the idea a driving range of 350+miles at a time charge.
It also offers the latest version of a super cruise, including driver assistance technology that enables hands-free driving.
Price of the 2024 GMC Hummer is identical to the pickup truck. The base model of the GMC Hummer starts with the price of $79,995.
The newly released SUV will be available in the market within the first month of the next year. Now GMC is taking reservations for the booking of the GMC Hummer.