Car enthusiasts understand the significance of a well-maintained car. This is why it's hard for them to confide their trust in any mechanic shop in their vicinity. Giving the car to an untrusted one would lead to more issues and costly repairs in the years to come. Ask the following questions from the mechanic to get peace of mind that your vehicle is in safe hands:
Are you a Certified Mechanic?
Automotive Service Excellence, commonly known as ASE, gives certification to the mechanic. After five years, the mechanic is to be tested for his knowledge of the latest advancements in the automation industry. If the mechanic you have selected isn't ASE certified, check other 3rd party and manufacturing training certificates.
Have You Worked With a Similar Issue Before?
Working on your car model would be an effortless task for the mechanic who had worked on the similar one. You are giving the vehicle to someone with safe hands and would take good care of it. It would instill confidence in the mechanic who already knows how to deal with your car.
Can You Share Complete Details of Your Mechanic Repair Estimate?
Before hiring a mechanic, you must know the mechanic repair estimate levied by him.No one wants to end up with a bill with surprise charges. Your car needs routine maintenance and repair, so get an idea about cost estimates well in advance to set the budget accordingly. Don't forget to look at the bill and ask if something is mischievous.
Can You Provide Information About Urgent Repairs?
If you have set a budget and several things in the vehicle need repair, ask him about the repair that demands most of your attention. For instance, if one of the tasks is engine repair while another is tire rotation, preference must be given to the engine task. The mechanic must render his valuable assistance if you cannot make crucial decisions by yourself.
How Much Time Will the Repairs Take?
Sometimes during a busy day, a lot of stuff occupies your mind. You aren't waiting for very long on a busy day as it might leave you frustrated. Therefore, it's vital to get a complete idea of how long it will take to complete the work and don't have to spend your precious time sitting and waiting for the work to finish.
Can I Talk to Other Customers For References?
A mechanic who does exceptional work won't mind introducing you to existing clients. Don't hesitate to ask questions that you have in mind to know whether the technician must be hired or not. Get an idea of the time taken to accomplish the task and the charges levied by the mechanic. Ask the customers about references to get an idea of your expectations.
Do You Levy Diagnostic Charges?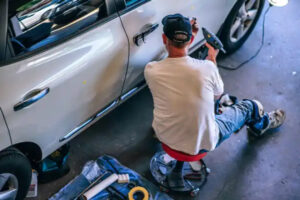 If you suspect an illuminating check engine light, the engine problems occupy your mind. The mechanic would perform a diagnostic test to determine the error code and its associated problem. Some mechanic repair shops take charges to diagnose the issue, while others would do it for free.
Do you Install Quality Parts in the Car?
Now that you're paying for your car, all you expect is the quality parts inside it. Ensure that the mechanic uses quality parts that are durable to help your car run smoothly. Check the parts that he is installing, and in case they aren't as per your expectation, buy new ones from the customer trusted online car parts & accessories store 'The Auto Parts Shop' at a reasonable rate and pay him the labor charges only.
Can You Hand Over a Written Estimate?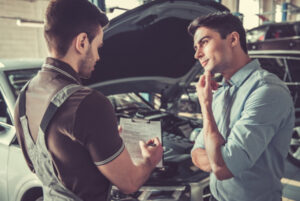 A reputed shop won't hesitate to give you a written estimate about their prices. Before the Auto Body Repair job, the mechanic must provide you with a written bill to know how much you're expected to pay. It's better to get complete information on what you're supposed to pay. The final price would depend on how long the repairs will take.
The Bottom Line
Ask the mechanic the questions mentioned above and hire him for your car job on the basis of the answers. Ensure that quality parts are installed within your vehicle and pay the exact mechanic repair estimate instead of ending up being surprised after looking at the bill.