Car enthusiasts understand the significance of their cars. They expect their car to look as if it has been recently bought from the showroom. Car detailing has turned their dream of having a spick and span car come true. Detailing isn't just confined to a car wash but is accurate and labor-intensive work.
What All is Included in Detailing Service?
Anyone can perform the detailing work both inside and outside the vehicle, but giving it to the experts performing car detailing near me would incorporate the right techniques & use optimum quality products. A professional car detailing comprises the following things:
Exterior Cleaning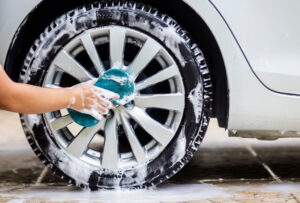 Washing & Drying from Outside
The external washing & drying process is carried out manually. The detailer uses sprays and other special products to clean the car's body. The process consists of hand-washing, rims, door handles, and car wash.
Paint Claying
A clay bar helps eliminate unwanted particles, overspray, or residue. Claying gives a smooth and clean surface and also helps to increase the effectiveness and polish of the wax.
Car Polishing
An abrasive compound is added to the car's paint to eliminate small layers of clear coat. This is done, so that small scratches and swirls in paint go away.
Sealing & Waxing
Add a layer of protection & offer a shimmering look to the car by applying a sealant to it. Alternatively, you can apply wax to it.
The higher the car detailing cost, the more will be the benefits. These additional services include trim repainting, engine detailing, headlight polishing, engine pressure cleaning, bumper repair, glass chip repair, and paint touch-up.
Interior Car Cleaning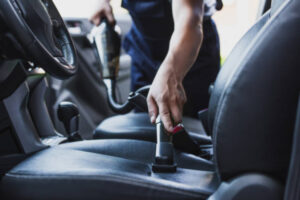 Vacuuming: The car's interior, including the upholstery, is vacuumed thoroughly to remove unwanted contaminants from it.
Brushing & Scrubbing: Floor carpets and mats daily deal with several things. The stubborn stains on floor carpets and seats are eliminated by brushing and scrubbing.
Glass Cleaning: In this process, both windshield and windows are covered.
Leather Trimming: The car parts made of leather are generally cleaned during this process.
Perfuming: Spray or deodorant is applied to the car to get rid of unwanted odour.
Add-On Car Detailing Services
You can reap additional benefits from your car detailing by paying higher car detailing prices. These services have been listed as follows:
Paint Correction: A paint correction will rectify the issues if the car's paint has become oxidized or dull over time. Some professionals apply rotary machine polisher during this paint correction process to give it a shining look.
Ceramic Coating: A protective layer of ceramic coating is added to the car paint to the external section of the car. It is an excellent alternative to wax.
PPF: PPF basically refers to Paint Protection Film. It safeguards the vehicle from rock chips, minor scratches, UV light, mineral deposits, and acid rain. It offers better protection than ceramic coating.
How Often Should You Detail Your Car?
The frequency of car detailing depends on how much wear and tear the car undergoes on an everyday basis. Performing these tasks 2 to 3 times in a year or one time every 4 to 6 months is highly recommended. Keeping the car washed, cleaned, and waxed two times a year would be sufficient to make it look spick and span.
How Much Does Car Detailing Cost?
The average car detailing cost is $160.16, generally performed by professionals. The detailing prices differ from country to country. Some countries would levy $19, and at times it could be as much as $320.
How Can You Save Money while Taking the Car for Car Detailing?
Car detailing is an expensive repair that could burn a hole in your pocket. However, Instead of paying so much purchasing the car detailing equipment kit from trusted car parts & accessories stores like 'The Auto Parts Shop' and resolving the issues by watching the DIY videos is the best course of action.
The Bottom Line
Car detailing would make your car look brand new. However, some professional assistance and some car detailing accessories will improve the car's condition.