Car floor mats are available in universal sizes, which can generally be trimmed to fit, and there are custom floor mats designed for specific vehicle makes, models, and years
Your car carpet must withstand many tests in daily use. Maybe you have pets and children walking with you or you live in an area that often rains, which mean you are tracking dirt. In any case, the stains on the carpet are never good; you need to keep them clean, because this will help increase the resale value of the car.
Buying a new set of car mats is a great way to clean your car in the spring without any effort. Summer road trips are coming, and now is the best time to throw away old mats that have been soiled with winter's salt and mud and start over.
No matter how careful you are before getting in the car, sooner or later you will leave some dirt on the car. Normally, it builds up so slowly that you won't even notice it until it becomes too much to ignore. Fortunately, third-party foot pads are more affordable than ever and easier to clean than car floors, but there are so many on the market that we decided to compile a list of some of the "best."
What to consider before choosing a car floor mat?
Car floor mats are available in universal sizes, which can generally be trimmed to fit, and there are custom floor mats designed for specific vehicle makes, models, and years. Rubber mats are generally more popular because they are waterproof and more durable than carpets, with deep grooves and wells that prevent water, mud, and other debris from entering the footwall, but they don't look as soft.
Both usually have a non-slip surface on the bottom and some use snaps or buckles to keep them in place. If you like the ideas of ​​rubber pads but are sensitive to chemical odors, some brands will offer BPA-free options in their product lines. You will find mats sold in sets, ranging from two to five pieces.
Types of car floor mats
Armor All- All Season Floor Mat- These mats is suitable for all seasons! The Armor All- All Season Floor mats can withstand bad weather whether it's the coldest time of summer or winter. They have universal dimensions, but are easy to trim. Just cut along the leading edge until the size fits your floor.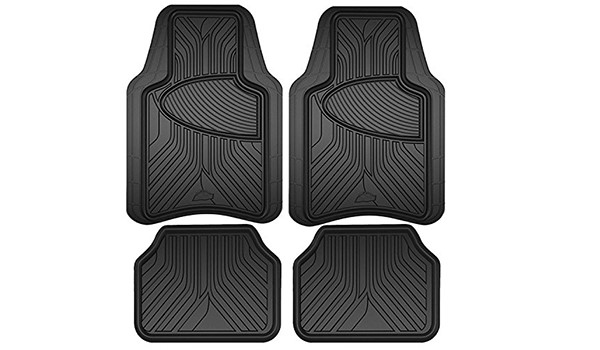 Once in place, they will remain the same due to the carpet claws. This patent-pending design uses non-slip technology to ensure the safety of your cushion. These mats will protect your floor from spilled drinks, crushed food, rain, sleet, snow, sand, and other types of dirt. They are also easy to disassemble and clean.
Motor Trend BPA-Free Car Floor Mats-Although not completely odorless, these BPA-free car mats from Motor Trend are less harmful than some other brands on the market and are a wise choice for anyone who is sensitive to chemical odors.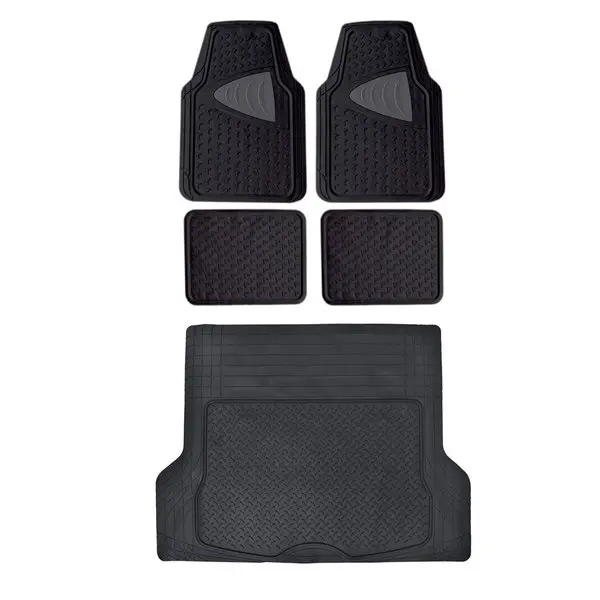 The all-weather three-piece set is made of latex with a non-slip backrest and includes two front foot pads and a foot pad that spans the back seat. In addition to black, it also has beige and slate gray, suitable for cars, trucks and SUVs.
BDK Fresh Carpet Floor Mats-These BDK car floor mats will blend in perfectly with the rest of your car interior. However, BDK still prioritizes safety, the non-slip grip at the bottom. The handle is fixed on the floor of your car to ensure that the carpet does not move when getting in and out of the car.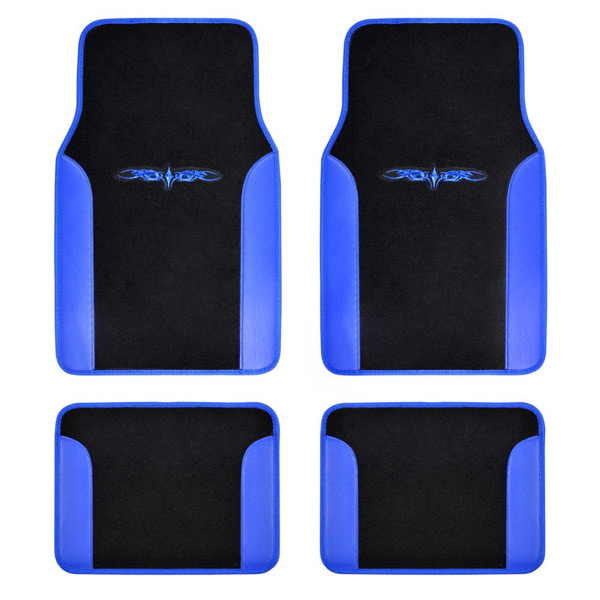 If you are concerned about slipping or moving your feet while driving, these mats are safe to use! These mats are available in five different colors, you can find the color that you like best. They are made of non-toxic polymers and are durable. Many floor mats have a strong smell, but are completely tasteless, so you can enjoy a pleasant trip. The front foot pad of the car measures 26.5 x 17 inches; the rear one is 13 x 17 inches. These are very common sizes, but be sure to check the size of your car before buying.
FH Group Monster Eye Car Floor Mats- If you want to add vitality to your footwell, these colorful rubber mats can solve the problem. The set of FH Group Monster eye car floor mats includes two front cushions and two back cushions; they are available in seven shades and in black.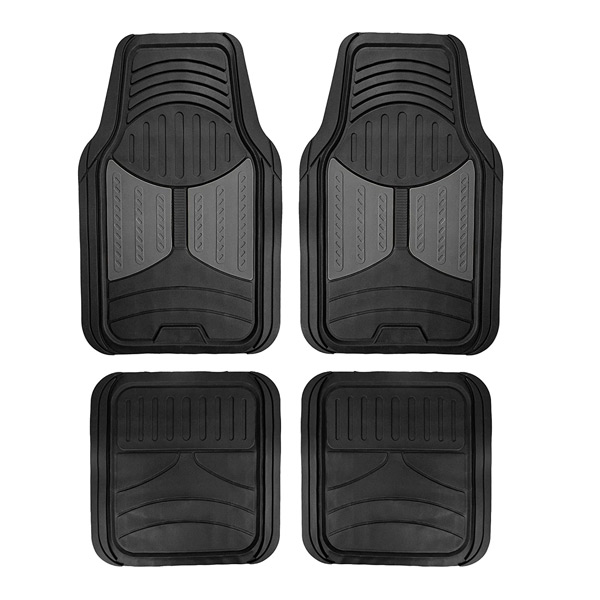 The deep grooves around the edges can absorb water and there are rubber teeth underneath so they won't slip. The driver and passenger pads are narrower than others, but if they are too large, you can trim them to fit.
BDK Rubber Floor Mats-Although there is no such thing as an easy-to-make GM foot pad, the BDK foot pad is a good compromise. The front foot pad is 27.5 x 17 inches, but it can be trimmed to fit your car. Use scissors to cut out the outline of the mat to fit your foot room, making sure to leave enough space around the throttle.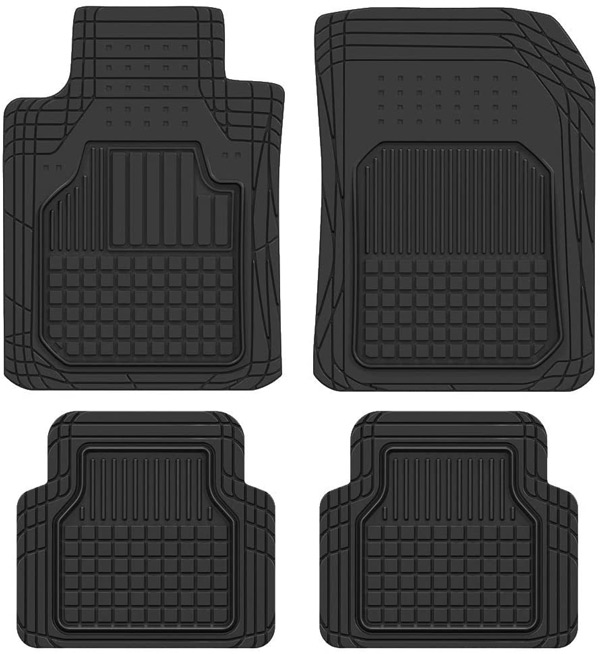 There is a guide wire on the car floor mat, so you can trim it little by little until you reach the perfect size. The rear foot pad measures 16.5 x 18 inches and can also be cut to a suitable size. Once you've customized them to fit your car, you'll love the weather resistance of these cushions. They are designed to withstand rain, sleet, snow, and hot weather without cracking, cracking, warping, or melting. 
INSTANTARTS 2 Piece Floor Mats-If black, gray or tan floor mats are a bit boring for your taste, check out Instantarts floor mats. There are nearly 40 different designs to choose from! This includes elephants, sunflowers, galaxy prints, wolves, etc. The foot pad is made of waterproof polyester, which helps protect your car from dust, dirt, and snow and splash water. There is a rubber backing at the bottom to help keep the cushion in a safe position while driving.
However, they are not as safe as some of our other recommendations. They are only available in one size, but their design is suitable for most vehicles. Please be sure to check the size of your foot space before ordering to ensure it fits.
Motor Trend Rubber Floor Mats– If you live in a place suitable for all seasons, buy something that can cope with changes in the weather. Motor Trend floor mats are durable enough to withstand extreme heat without melting and won't crack when extremely cold. Whether you're tracking in rain, snow, mud, or other ground, these mats can handle it. They will not break in difficult conditions.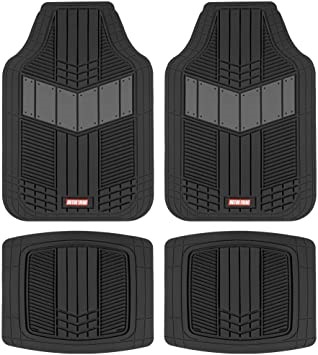 As for the material, it is designed to protect the interior of your car. The high ridge line is ideal for capturing liquids and debris. So when you spill the Starbucks, it won't make it to your original floor. You can take the foot pads out of the car and rinse them for easy cleaning. A little soap and water will return them to a minty state. These foot pads are designed to fit most vehicles, but you can easily customize them with a pair of scissors. Cut them to fit your floor, making sure they are not too close to the gas pedal.
Rugged Ridge All Terrain Floor Mats-Off-road riders know that they will eventually bring a mess of hemp into your cabin, and if you are looking for mud protection, this makes Rugged Ridge off-road pads an attractive option. These foot pads are manufactured using the most advanced technology and are precisely tailored to fit your truck or SUV.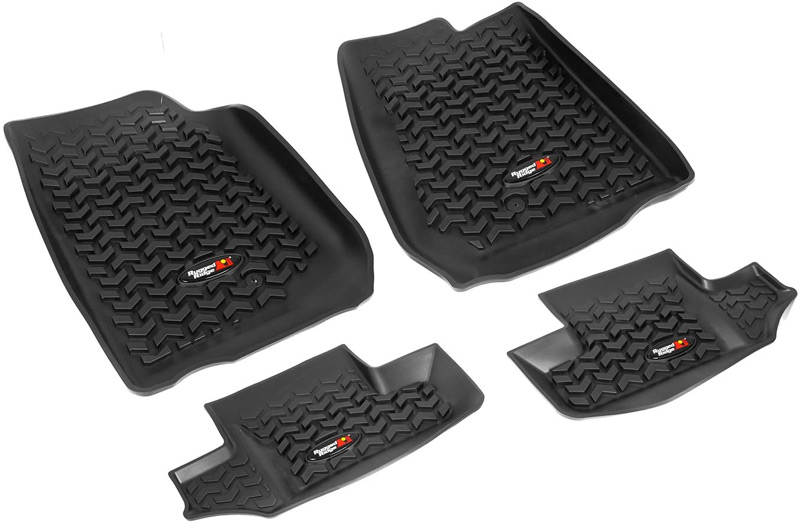 These cushions have a 3/8 inch tread, which is more than twice the thread height of a typical vacuum formed cushion. The self-sealing floor hook attachment helps prevent debris and dirt from passing through, while the tall enclosure wall provides a larger footprint for almost unparalleled leakage containment and internal protection. The pointed bottom surface helps limit movement and cleaning these pads is as easy as unplugging a hose. Like other mats on the market, Rugged Ridge off-road mats are available in a variety of colours to match your interior.
Kraco Premium Rubber Floor Mat-If you're looking for a more affordable option and still provide good protection against mud, dirt, and other elements, consider Kraco's premium rubber car pads. These floor mats have cut-out edges, so they can be installed in various vehicles. They are made from high-quality rubber, with durable, UV-fading and anti-fouling mats, and raised heel pads for durability and protection.
The underside of these mats uses pointed ends to hold them in place, and the textured back helps secure the mat to the car carpet, further preventing any chance of slipping. Choose between gray and tan colors to blend perfectly with the rest of your interior. Each set has four pieces and provides front and back coverage, making them a great choice for budgets.
Wrapping up
Every season it will track down all kinds of chaos in your car, whether it rains in spring or snows in winter. Then there is always the problem of drink spills and food crumbs, especially if you have children. So the main question is whether the foot pads can complete the job of keeping the car carpet clean. Cleaning car mats is not easy, and it is even more difficult if you install cheap or inappropriate foot pads. To make matters worse, faulty foot pads can slip and lock the pedals while riding, which can cause accidents. This is why high-quality floor mats are important, because the best floor mats are designed to stay in place while protecting your car carpet from all kinds of dirt, debris, grime, etc. As you can see, there are many options for car mats. No matter your driving style or weather conditions, there may be a set that suits you and your vehicle. Otherwise, some companies will provide fully customized foot pads, so you can get a set of foot pads that perfectly match your vehicle.