Automobile laws keep on changing every now and then. The drivers must follow them. Those who don't abide them get pulled over and are punished in the form of heavy fines. One such law is the installation and maintenance of licensed plate frames. Here is everything you must know about licensed plate frames and licensed plate frame replacement that must be performed in case of a problematic plate.
Advantages of Licensed Plate Frame
Every vehicle must have a licensed plate frame as it offers numerous benefits to car drivers. These add an extra layer of protection to your car and are manufactured keeping individual preferences in mind. Let us explore the amazing benefits offered by these licensed plate frames as follows:
Durable
Licensed plate frames from Autoparts offer much more than just enhancing their curb appeal. These are made of sturdy stuff and are not impacted by dents or harsh weather. Driving with damaged plates would cost you both in terms of fine and costly repairs. Purchasing License plate frames for sale and installing them would save you from problems in the future.
Enhance the Curb Appeal
Licensed plate frames give a new dimension and make the car look more stylish. You can customize them the way you want without depleting your savings to buy them. The appearance can be simple and complicated depending on the way you want it to be. Some plates have a simple black plastic, while the others have chains with intricate decorations and brand names attached to these plates. There are a variety of color options you can choose from based on your convenience. You can have the kind of look that you are dreaming of.
Expert Assistance
Choosing the right licensed plate frames is a complex task, but professionals at Auto Parts Shop recommend plates with frames that align with the requirements you have in mind. If you have been facing issues in selecting the right frame, don't hesitate to connect with experts selling Licensed plate frames at Autoparts shop. The only store that brings high-quality and uniquely designed parts to you. The experts offer valuable tips to make the selection and installation process hassle-free for you.
Uses of Personalized Licensed Plate Frames
Licensed plates are susceptible to wear and tear. This is why frames are installed on the front and back of the car. Generally, the edges and corners undergo wear and tear or are impacted by extreme weather conditions. These plates crack or chip under high temperatures. It is better to install a new License plate frame with a cover in the car in case the old one undergoes damage or wear and tear.
What Type of Material is Ideal for Licensed Plate Frames?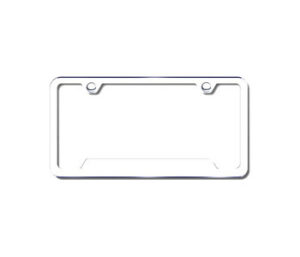 Licensed plate frames are made of frames with Polystyrene plastic. These are quite economical and possess unique protective properties. The best part is these are made of plastic and are customized based on the needs and preferences of individuals. You can purchase License plate frames on sale as these come with unique and stylish options.
Other Options to be Considered Before Purchasing Licensed Plate Frames
If you have a higher budget, metal-based frames would be an excellent choice. These offer higher protection than the ones made of plastic.No matter what comes in front of them; they possess amazing capabilities to deal with them. Chrome-plated licensed plates lie in the middle of the plastic and the metal version. These offer an excellent chrome finish and safeguard them for a long time. These are long-lasting and have an impressive look. If you are looking for a complete metal frame, you can consider the Zinc based frames. You can choose the frame from the options list depending on your requirements and considering the budget.
How to Choose the Right Licensed Plate Frame For Your Car?
Planning to install a new licensed plate frame in your car? Read the tips mentioned below to select the right plate frame for your car:
Consider Your Mounting Style
The U.S and Canadian plates are mounted using 2 or 4 holes. The number of mounting holes depends on the car's make, year, and model. Therefore, it is better to look at the vehicle before purchasing the frames for your car.
Abstain License Frame Vibration & Damage
Get License plate frames wholesale from a reliable store like 'The Auto Parts Shop' with a built-in spacer between the car and the plates. This keeps your paint intact and prevents vibration and debris entry which would accumulate behind the frames.
Pick Your Preferred Frame Style
Laws related to state names and mottos differ in every state. Keep them into account before purchasing the frames, along with the styles listed as follows:
Slimline
If you want to add a complimentary trim and keep the plate and the tags covered, investing in a slimline is ideal.
Semi-Wide Bottom
If you are looking for a wide frame plate, make the semi-wide bottom your preferred choice. It is 8″ wide with a visible registration tag.
Wide Bottom
As the name suggests, the frames come with a 12 ft wide bottom and don't hide the registration tags or license plate message.
Don't Forget to Upgrade the Mounting Hardware & Covers.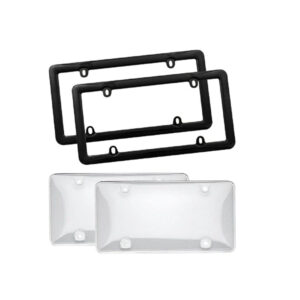 The kind of hardware to be installed in the car depends on the make, year, and model. Prefer buying hardware made of stainless steel as it would prevent the car from rust or corrosion. Sometimes the covers become damaged or broken, so get a new License plate frame with cover.
The Bottom Line
Those who drive with problematic plates pay hefty penalties and money to get them fixed. Purchasing License plate frames Autoparts can fix these issues in no time and prevent them from bothering you for years.