Everyone wants to keep their car spick and span. However, preventing the car from spillages or food particles is difficult. These particles stick to the car's interior, and removing them becomes a hassle. Weather Tech Floor Mats can safeguard your vehicle from spillages and makes it look brand new and tidy. The market has a wide selection of Weather Tech floor mats that are durable and are made of stylish and seamless material.
Over time the Weather Tech floor mats undergo wear and tear or won't do their job as certain material spills on them, which is difficult to clean. Determine the Weathertech floor mats cost from the nearest store and clean it on your own.
How Do Weather Tech Floor Liners Work?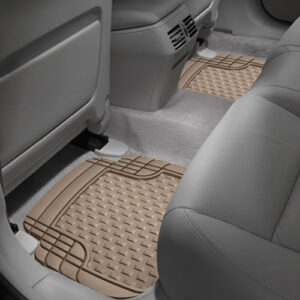 Weather Tech Floor mats come with advanced Digital Fit Technology that scans and measures the curvature of the vehicle. It also keeps the year and body configurations into account so that the designers come with strong and high-density mats. Before installing these WeatherTech floor liners, you must clean and take the original mats out. These mats cover the side of the footwell and are manufactured using water-resistant material to prevent mud and water from getting underneath the car. This dirt and debris can deteriorate the carpet floor permanently.
Advantages of Using Weather Tech Floor Mats
Besides keeping the car condition intact, Weather Tech Floor mats offers the following advantages to the motorists:
Protects the Car's Resale Value
The car resale value is generally affected by various factors, including the number of miles covered, the exterior, maintenance, history of collision, and the interior.WeatherTech floor mats Autoparts keep your vehicle stain-free and fresh.
Durable
The mats are made of tri-extruded material, which is long-lasting and robust also offers friction to the carpet so that it moves from one place to another without any hassle. In addition, the material of the mats is so good that it doesn't undergo curls or cracking that generally takes place in low-quality mats.
Integrated with Advanced Surface Designs
Advanced surfacing forms channels that take debris and fluids to lower reservoirs and channels so that the fluid movement reduces while driving. These ridges throw the fluids away from your shoes and clothes.
Hassle-Free Cleaning
No matter what spills on the floor and makes it dirty.WeatherTech floor mats can be cleaned without any hassle, and once the cleaning task is over, you will hardly notice any stains on them.
You don't have to deal with messy and dirty floors with weather tech floor mats. You need to do is find shops that offer Weathertech floor mats for sale near me and install them in your car.
How To Choose the Right Weather Tech Floor Mats for Your Car?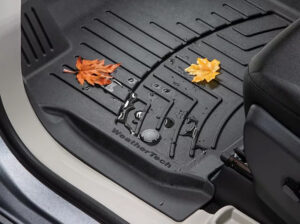 Are you feeling confused between several Weather Tech Floor mats? Choosing the right Weather Tech floor mat is a hassle for many of us. This is so because the automotive industry is flooded with several options, which leaves us confused. However, experts providing weather tech floor mats at Autoparts have come up with tips that can help you pick the one which is right for you:
Determine Your Purpose
Know your purpose in purchasing weather tech floor mats before investing your hard-earned money in them. Has the kid spilled the liquid on the floor? Or Are you a soccer player who makes the floor dirty due to dirt and grime? The purpose would help you find a perfect floor liner. If you don't have any idea which floor liners are right for your car, invest in the ones
Associate with a Reliable Company to Get Quality Mats
It is important to associate with a reliable company that gives top-quality products at competitive rates. You don't have to wait at the stores for extended durations. All you need to do is visit the customer's trusted car parts store like 'The Auto Parts Shop' and place the order for the mats. These experts would guide you and offer free shipping with free returns. If you want the right product, associate with a trusted store near you.
Consider the Climate
Excess heat or cold affects the interior of the vehicle. Weather Tech floor mats add an extra layer of protection and are equipped to handle any kind of temperature. They can be easily removed and wiped. Before giving it for cleaning, know the Weathertech floor mats cost; if the expenditure is rising beyond your budget, perform the cleaning and installation yourself.
When It's Time to Replace Weather Tech Floor Mats?
Most of the Weather Tech floor mats are an effortless task. Things such as french fries, Coffee, or mud can be cleaned using a hose and a detergent. This isn't the case with other stuff, and when such things are left unattended, these mats won't be able to perform these tasks easily. Start searching for online stores dealing with Weathertech Floor Mats near me and replace them in no time.
The Bottom Line
Install high-quality mats in your car to help your car work optimally. This would keep the car's interior intact and leave the vehicle in optimum condition.