Mustang car, the American icon, was introduced as a pony car among enthusiasts. The aesthetics and exhilarating driving experience offered by the vehicles make it stand out from the crowd. The car has a turbocharged engine with four cylinders that gives a horsepower of 310, while the V8 version gives a horsepower between 460 and 480. It comes with dialled cornering abilities that offer a smooth riding experience to the drivers.
Reasons to Invest in Ford Mustang
There are lots of reasons why someone should invest in a Ford Mustang. One of them is a wide range of engine options that meets your budget requirements. In addition, these engines provide you with the kind of power you have been thinking of.
Significance of Mustang Bumpers
The front and rear bumpers safeguard the vehicle from rocks, external objects, dust and debris. Parameters, including impacts and dents, hamper the external structure and resale value of the car. The best thing is these issues can be resolved by replacing the old Mustang Bumper covers with a new one. Before that, let us discuss the bumper issues in detail:
Reasons Not to Buy Ford Mustang Car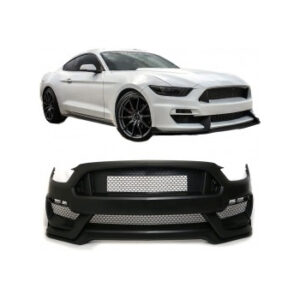 Bumper Issues
Ford Mustang drivers have highlighted three bumper issues. Let us dive deeper into them and obtain an estimated quote for Mustang Bumper replacement cost that would resolve the issue in no time:
Bumper Issues of Ford 2010 Mustang
The 2010 Ford is convertible. Consumers complain that the rear vinyl bumper starts coming out as if it has been pushed. These Mustang bumper cover come out to such an extent that it would probably lead to accidents.
Bumper Issues in 1999 Ford Mustang
The design of the bumper 1999 model is poor, and once the structure of the bracket tabs is compromised, the entire bumper would come off in no time.
No matter the underlying reason for the bumper issues, the problem can be resolved with an aftermarket mustang bumper.
Other Issues Related to Ford Mustang
In the year 2015, Ford released a technical bulletin in which corrosion issues on Aluminum panels were highlighted. However, these issues were common in other models, including Lincoln and Mercury.
Interior Leaks
Interior leaks were the most frustrating things ever experienced by car owners. There were issues with the body design present at one section of the car and in the hood cowl, window seals, trunk and footwell of the drivers. As a result, you can find puddles that were two to three inches deep on the floor.
Mold and Mildew Problems
Two car drivers were concerned about the mold and mildew issues that existed as the water got within them. These leaks became a safety concern, and the users were expected to pay money out of their pocket.
If there is a bumper issue or any other problem, a qualified mechanic can help you get rid of it. In case you want to save money on expensive repairs, determine the Mustang Ford Bumper replacement cost from a trusted store like 'The Auto Parts Shop' and prevent issues from coming back.
The Bottom Line
Bumper issues when left unattended could lead to bigger issues, and driving could lead to accidents. If the condition gets worse, installing a new Mustang Bumper cover would fix the issues in no time.