Hello, fellas! The summer season is making its appearance. All the birds have returned, also the wildflowers have to blossom. Undoubtedly, after a long winter time, it's always a great experience to watch all these mesmerizing signs of the spring season. Moreover, it's also a great opportunity to do some spring auto maintenance things to keep your beloved car in a healthy & sound working condition.
Winter is believed to be the most harsh season for your automobiles since during the winters, frost, ice, and brines all work together to deteriorate the health of the vehicle. Even post COVID-19, the auto care has also transformed the way to maintain and use our automobiles, therefore it's a great time to get a short check on your vehicle insurance as well.
Today, in this write-up, we have compiled some handful of spring vehicle maintenance ideas to keep your car running smoothly. Take a few minutes to perform some of the following spring auto maintenance procedures to get your vehicle ready for summer travel.

#1. Get Your Car Wipers Replaced
Winter may be hard on your car's windshield wiper hinges. Often the wipers wear down rapidly due to the frequent hot & cold temperatures. So, it is suggested that you replace your windshield wipers every five to six months. Even though they seem to be fine, examine them carefully. Notice that whenever you use them, do they leave streaks or make a weird sound? If you suspect the wipers still have life, put a spare set of windshield in your trunk.
#2. Perform an extensive Interior cleaning
Undoubtedly, the mats of your automobile had safeguarded your car's floor from the ice in the winter season, and now the interiors of your vehicle also require cleaning as well. Sanitise the surfaces you often contact inside your automobile, such as the wheel, door knobs, gear shifter and temperature controls. Try to clean the inside windows, dashboard, and steering wheel first, then various car controls, and so on. After then, using a powerful shop-vac, vacuum the ground, car seats, and of course the trunk thoroughly. You must also clean and air-dry your car mats to make them ready for the springtime. Installing good quality car rugs is our recommendation!
#3. Perform a complete exterior cleaning
You should clean the outside of your automobile as well as the inside. But don't just go to the vehicle wash and call it a day. Instead, devote the necessary time to cleaning every component of the car's exterior as well. Also, clean the hubcaps, the doorway jam, plus other hard to reach areas. If ignored, those regions might deteriorate over time into more alarming situations.
#4. Get Your Car Oil Changed
The most appropriate time to replace your oil is during spring maintenance. Your engine has really worked hard all winter, so providing it with a fresh oil replenishment will make all the difference.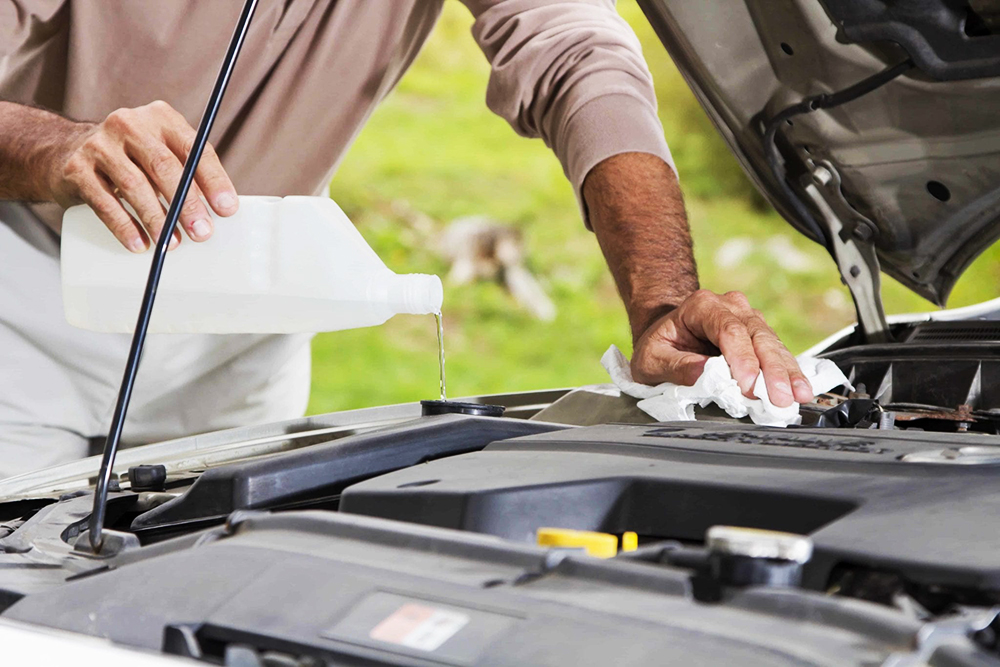 #5. Refill Your Car Washer Fluid
You've probably had to use different windscreen washer fluid in the previous several weeks, so springtime is a great time to replenish it. Washer fluid seems to be something we typically forget about until we require it, resulting in a dire situation!
#6. Inspect Your Car Air Filters
Your automobile has many air filters which helps to aid in its operation. Do you really remember the very last time you took a look at them? Hmm.. There are multiple car owners who haven't ever cleaned their filters, which might be somewhere hindering the performance of their vehicle. So, take out your automobile manual and look for your car air filters, then inspect them! If you're not experienced with autos, take it to a nearby garage or hire any professional for the same. Find the aftermarket air filters here!
#7. Thoroughly check your car belts
The engine belts of your car degrade quickly in cold weather. Regular inspections may help safeguard you from potential issues. It is time to replace it if it appears to be in the worst condition, with signs of damage or significant wear. Similarly, having a local professional expert to examine it prior to the warmer weather arrives will be a wise decision!
#8. Get Your Car Waxed
What would be a nicer way to welcome the spring than to shine up your freshly washed car? A decent turtle wax does more than just make it shiny. Waxing your automobile may help you clean off things like rain, bugs, and dirt.
#9. Change Your Car Wheels
Getting all-season wheels for your vehicle will be the wisest choice you have ever made! Your winter wheels are only successful on the highways during the freezing, chilly months of the winter season. You must switch over to the quality and must get all-season wheels that will aid you drive better on even dry and rainy roads.
#10. Inspect Your Car Brakes
Remember to never gamble with your car brakes! Get them examined before the spring season begins. When switching from winter to all-season tires, or when you start hearing squeaky noises, it's a good idea to get them inspected and fixed.
#11. Check Your Insurance Coverage
It's a great opportunity to review your auto insurance coverage. Call your insurance broker to check your vehicle consumption and to get through your entire coverage. It is possible that you might be eligible for further savings if you combine your house and auto insurance policies.
Time To Experience The Best Of The Spring Season By Getting Back On The Road!
While many people equate spring with deep cleaning your house, it's also a wonderful time to springtime clean your automobile. Chilly weather can be harsh on our vehicles, both in regards to appearance and performance. Reap the best of the spring seasons by doing these basic maintenance activities on your car, and it will be ready to take to the highway in vogue.




We believe our spring auto maintenance suggestions have inspired you to get started right now. Explore The Auto Parts Shop to get various aftermarket car accessories online at an affordable rate!

Happy Driving!