It is impossible to expect ample features in a single car. Toyota 4 Runners has proved it wrong as the car has become a prominent choice of off-road travelers. The latest technology has been integrated inside and has a solid body with a powerful V6 engine. The car operates on different trim levels, which are designed considering the needs of the different SUV enthusiasts in mind. Let us get into the ins and outs of this exquisite model and determine Toyota 4 Runner problems and complaints that hamper its smooth working.
Exclusive Features of Toyota 4 Runner
The Interior & Exterior Design
The car is aesthetically appealing and has a comfortable exterior design. Other exotic features include 20″ split 6-spoke alloy wheels, front and rear bumpers that are color-keyed. It has a Color-keyed heated power that is present in the external region of the mirrors. Every car cabin has been meticulously designed, and the car is made up of premium materials.
Safety and Performance of the Car
The car performs exceptionally well and has a 270 HP 4.0 V6 engine. Three different drivetrain systems have been installed in the car full-time 4×4, part-time 4×4, and rear-wheel 4×2. In addition, pro-level safety features, including the pre-collision system, lane departure alert, and stability control, are a part of the car.
How Much Exactly Does Toyota 4 Runner Limited Cost?
The cost of the Toyota 4 Runner starts from $45,395 MSRP for the 4×2 models and $47,430 MSRP for the 4×4 models.
What are the Common Toyota 4 Runner Problems?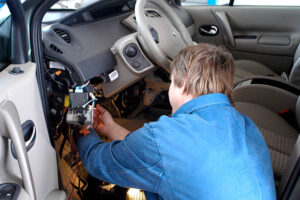 Whether you own the latest Toyota model or have an old one, the reliability issues help it stand out. Despite being exceptionally reliable, users have reported Toyota 4 Runners problems and complaints. You would encounter the following issues in Toyota 4 Runner car models:
Issues with the Braking System
Owners have noticed braking issues in Toyota 4 Runner 2017 model. These are temporary problems and have noticed the brakes locking on either side of the SUV. This wasn't an issue with the 2014 & 2015 models. Users have noticed braking problems not only in 204.2015,2017 models but were also found in 2003 & 2005 cars. Motorists have also faced issues with front brake calipers, front brakes, warping, and premature wear in the car's front brake rotor and brake master cylinder.
Automatic Transmission
Transmission issues were commonly found in the 1990-2016 models. In certain cases, users have noticed their SUVs shifting manually and won't shift to overdrive. These issues result in power loss and make the shifting rough. Once the car covers 25,000-150,000 miles shifting becomes a hassle, and it's time to consult 'The Auto Parts Shop' bringing premium quality and reasonable Toyota 4 runner replacement parts to you. Sometimes complete overhaul won't resolve the issues.
Idle Airbags
Did you know that airbags issue were identified in almost 90,000 Toyota models? Front airbag inflators were the root cause and were unable to explode or failed to deploy during emergencies. Problems with airbags could lead to more issues. Ensure that the issues have been rectified before you plan to purchase.
Corroded Solenoid in Contact with the Starter
Corroded Solenoid issues have been bothering third and fourth-generation models. Corroded Solenoid makes the SUV stop all of a sudden or won't start at all. At times the turning key and the starter starts producing weird ticking sounds. Most of the issues were resolved by replacing the problematic starter. Starter solenoid replacement cost between $50-$200, can prevent the issues from bothering you.
Poorly Working Charcoal Canister
Purge in charcoal canister leads to solenoid valve failure. This further leads to emission control problems that illuminate the check engine light. These issues worsen so much that debris starts getting within the Evaporative Emission System, leading to emission control issues. Such issues are commonly suspected in 4th generation models, especially the 2004,2005 and 2009 models. These issues are generally resolved by replacing the problematic canister with a new one. The best part is that these issues can be resolved using Charcoal Canister replacement between $250-$450, in which the labor costs are levied separately.
Rust/Corrosion/Body Paint Issues
Rust or corrosion is the most common issue faced by Toyota 4 Runner owners. These issues bother the car enthusiasts after they've covered 154,000 miles. The car was working exceptionally well, uncovered after the mechanic's visit disclosed that the car had a severely corroded frame and suspension. Undercover rusting was suspected in the 2005 car model. One of the Toyota 4 Runners' problems and complaints was so shocking that it declared the SUV models unsafe and have undergone intensive corrosion. Fixing these body paint issues would cost you up to $1800.
Melted or Cracked Dashboard
A Sticky, melted, or cracked dashboard is another issue that has become a cause of concern among the users. Many users reported that these problems took place due to excessive sun exposure and formed a sticky and shinning substance in place of plastic.
Poorly Working Mass Airflow Sensor
Those who have spent their money on 1996-2002 car models have experienced issues in mass air flow sensors. Numerous complaints were lodged against 2012 models as well. Misfires, hesitation, buckling, and stalling was the common issues faced by the owners. These issues took place due to a faulty mass airflow sensor, and replacement is the only way to resolve these issues.
The Bottom Line
Toyota 4 Runner is impressive and is exclusively designed to cater to the needs of adventure enthusiasts. Problems in the car parts can be fixed via replacement. Driving with the problematic parts could lead to bigger problems and expensive repairs, so try to fix them now.